Advice and Information
Enterprise Space
Finance and Grants
Training
Networking
Professional Service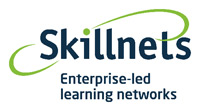 Organisation: Skillnets Limited
Address: 5th Floor, Q House, Furze Road Sandyford Dublin 18
Contact: Sinéad McGovern
Telephone: 01 207 9630
Fax: 01 207 9631
Email: communications@skillnets.com
Website: www.skillnets.ie
Skillnets actively supports and works with businesses in Ireland to address their current and future skills needs. We fund groups of companies in the same region/sector, and with similar training needs, through ca. 60 training networks that deliver subsidised training to Irish businesses. We work with companies, employees and job-seekers.
We run the following programmes:
Training Networks Programme (TNP) supports a wide range of training across a wide range of industry sectors and geographical regions for employees and job-seekers. www.skillnets.ie
Finuas Networks Programme (Finuas) supports specialised training in the international financial services (IFS) sector for employees and job-seekers. www.finuas.ie
ManagementWorks supports a range of management development training options along with mentoring support for owner-managers.
ManagementWorks Building Financial Capability programme supports SME firms to increase their knowledge of the sources of finance, the assessment process of credit providers and how to present the business case in financial terms when seeking finance. www.managementworks.ie
Skillnets is funded from the National Training Fund through the Department of Education and Skills.